This is a Sponsored post written by me on behalf of P.F. Changs for SocialSpark. All opinions are 100% mine.
Do you have people on your Christmas list that are really hard to shop for?  I know I do. But as a working mom, let me tell you something...I would love a night where I didn't have to cook.  I know I'm a food blogger, and I really love cooking, but some nights I'm really tired and I could use a break.  So, if you know someone in that same boat, give them that break.  A lot of restaurants offer gift card deals around the holidays, P.F. Chang's is the perfect example on one.
P.F. Chang's has a unique environment that combines Chinese and American cultures.  The food does the same.  The great thing is, it's one of the few Chinese restaurants around here that understands Gluten Free.  They have a great Gluten Free menu and understand the importance of cross contamination.
Some of my favorite dishes there include their famous Chicken Lettuce Wraps. They are an appetizer, but easily make a whole meal on their own. It's chicken, mushrooms, green onions, and water chestnuts, that are then servied with crispy rice sticks in lettuce cups. 
Another great dish that they have right now is their Harvest Vegetable Quinoa "Fried Rice".  I LOVE Quinoa, so this one is an obvious choice for me.  They wok-toast red quinoa with butternut squash, brussel sprouts, corn (I just ask for mine without corn, since I can't have it), snap peas, carrots, zucchini, and green apples, then they top it with a sunny-side up egg....seriously doesn't that sound like the perfect fusion dish?
They also have an amazing Gluten-free spicy chicken dish that rivals any that I've had. 
So, take a break from your shopping, head over to P.F. Chang's for a bite, and while you are there you can finish your shopping with gift cards.  They have a deal going right now that when you purchase $100 in gift cards, you get a bonus $20 gift card to treat yourself!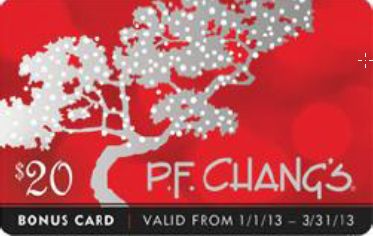 So, think about who close to you deserves a P.F. Chang's gift card and go get one for them, and for you, too! And then enjoy some amazing food!
Also check out their site: pfchangs.com, follow them on twitter: Follow @pfchangs, and on Pinterest, too: Follow P.F. Chang's on Pinterest.